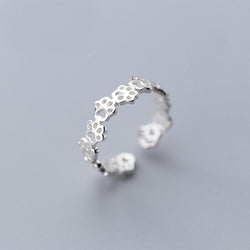 The perfect gift for Cat & Dog Lovers!
One of our best sellers for a reason! A trail of little kitty paws wrapping round your finger! This comes in 100% 925 Sterling Silver and will accompany your favorite outfit perfectly! This new Paw Print Trail Adjustable Ring is a sweet reminder of your furry friend wherever you go.

The worst part of the day is leaving your fur baby behind. Now you can keep your pup close to your heart, always, with this adjustable ring. The adorable silhouette of a paw will remind you of your furry friend throughout the day, while the heart represents the love for all the dogs you have.
Reassuring the highest quality at the most affordable prices, all of our silver rings are made of 925 hypoallergenic sterling silver. Being Platinum plated, you may rest assured that they won't irritate your skin or cause itchiness.
Specifications:
Material: 925 Sterling Silver
Package Includes: 
1 x Sterling Silver Adjustable Cat And Dog Paw Ring 2